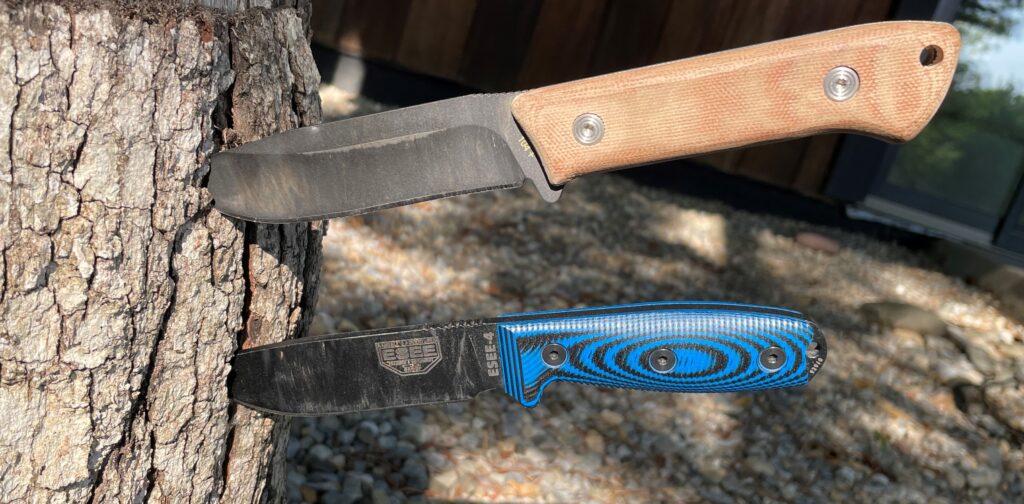 Best hiking knife. Hunting knife. Survival knife. Best camping knife. Lots of designations for tools that all perform a variety of similar tasks, across which there is a great deal of overlap. They're all vital, and an outdoorsman's most vital tool is the blade (or blades) he carries. It's arguably the one tool that can create any other tool necessary for survival.
But this is a digression. Our purpose here is to throw the ESEE 4 head-to-head against the venerable reputation of one of America's legendary knifemakers, Buck, in the form of the Buck 104 Compadre.
Both are very similar knives, and share a lot of general traits. They're similarly sized, similarly weighted, and possess profiles that are, again, fairly similar.
They're also both excellent camp knives, and seekers of a serious backcountry utility tool will no doubt come across listings for both before making a decision, one way or the other, or for a different knife.
But before we can pit these two excellent tools against each other, we need to split some hairs. What makes a camp knife – and more importantly, what makes "the best camping knife?"
So What Makes the Best Camping Knife?
A camp knife is a bit like a hiking knife, and a bit more like a survival knife. To put it bluntly, it's a knife that can handle almost any task that you could need to accomplish in a campsite, from light food prep, to cleaning game, to creating shelter from rough timber, to striking a fire. A camp knife must be robust enough to baton logs, yet retain other finer features that make detailed carving, game processing or food preparation possible. It is a delicate balance, but one that is nonetheless accomplished in many exemplary models – such as the two knives that are the focus of this post, and could each be considered the best camping knife.
Because of these necessities, a camp knife is usually significantly heavier than many backpacking knives and hunting knives, but smaller than bolos, machetes and other blades that are designated as trailblazers.
Many camp knives have blades between 5 and 7 inches – but some camp knives have larger blades, such as 10 inch blades or larger. They also typically lack elaborate ornamentation because of the hard nature of their use. Camp knives often forsake natural scale materials, like wood and bone, (well, sometimes, many have wood scales, too) for the durability and indestructibility of synthetic materials like G10, Micarta, GFN, or TPE, among many others. Most would not consider knives as small as either of the two entries in this article to be the best camping knife, but for their merits, an exception might be due.
They tend to be very ergonomically designed – hot spots are the enemy of camp knives, because a user will be as apt to swing or chop with one as he or she may be to use it to baton through a long. Clip points are rare – stout drop points are more common, minimizing the risk of breakage.
A feature that is near universal in "true" camp knives is a full tang. Not a partial full tang, but an honest-to-goodness full tang that is the width of the blade through to the pommel and fills to the edges of the scales completely. This feature is common on almost all camp knives, and in most cases the knife blank itself is so sturdy that the scales will be prone to crack or fail before the steel. That should give an impression of how durable the ideal camp knife should be designed to be.
Another feature that is typically lacking on camp knives is a large cross guard. These features often make for a pretty showpiece or provide the hand extra protection in a fighting knife, like the Buck 119 or the classic KA-BAR. However, these cross guards tend to get in the way of grip versatility – so the best camping knives tend to eschew them.
In a nutshell, the best camping knife is sort of like a knife that can do it all. It's a jack of all trades for life in camp. It can perform most tasks that a knife can tackle – other specialized blades may do a better job, but you can get them done with a camp knife – especially the best camping knife.
If you aren't familiar with the Buck 104 Compadre or the ESEE 4, you're about to find out that both of these knives exemplify nearly every trait mentioned here. While they are on the smaller size for camp knives (being sometimes referred to as survival knives) they definitely fit the bill of small camp knives. Here's what they offer, and how each can make a pass for title of the best camping knife.
The Buck Compadre: The Best Camping Knife?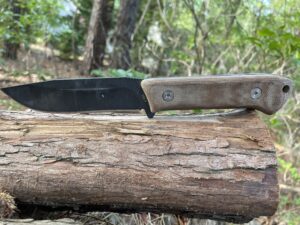 The Buck Compadre may be humble in appearance and generically colored, but don't for a second let it's ho-hum presentation betray its raw grit. It's one of the toughest knives out there, all the more impressive for its price class.
This knife has a 9.5 inch overall length, with a 4.5 inch blade and just about the same length of straight cutting edge. Blade thickness is about .16 inches, not too heavily, and not concerningly thin.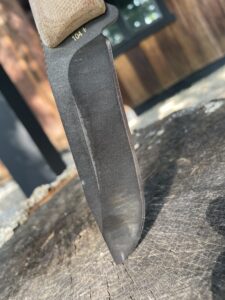 Overall, the knife weighs just a shade over 7 ounces, coming in at 7.1, according to the official reports. I did not weigh my knife, but can concur that it feels like it weighs a half a pound.
On the topic of weight and general appearance, I would also like to state that personally, I don't find this to be a particularly handsome knife. I don't find it that aesthetically pleasing, but I'm not sure what word I would use to describe it. It's either boxy or lopsided or something along those lines.
That said, in the hand, the knife is excellently balanced, indexes naturally, with no hotspots whatsoever, and is neither blade light nor blade heavy.
The scales are made of generic, brown canvas micarta. Perhaps this is boring, and yes, it will discolor if it is introduced to blood, oil or sweat, as micarta is wont to do, but this much can also be said: the micarta scales that come with this knife are some of the most comfortable, ergonomic, tactile scales I have ever felt in a knife.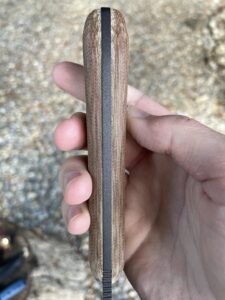 I've already stressed that there are no hot spots. This is true; the edges of the scales are perfectly rounded and the texture of the micarta itself is ideal. They're neither slick nor abrasive, and afford an excellent grip both wet and dry. The fit and finish of my knife is almost perfect, and there are no rough or sharp edges where the scales come into contact with the tang.
There is a lanyard hole for those that would wish to add one, and a gentle swell near the rear, where a pommel would be. This makes it easier to let the knife forward in the hand, if you want to use this knife as a chopper.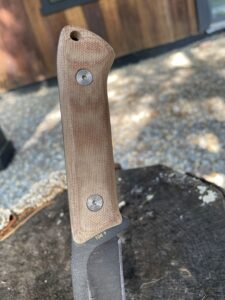 Getting back to the blade, it has a generous section of straight edge, an equally generously swept belly portion that is ideal for slicing, and a drop point that almost looks like a "pseudo" clipped point.
The blade is made of 5160 spring steel and finished with a black Cerakote cobalt coating. This grade of steel is both very strong and very tough, but not corrosion resistant, so the Cerakote is a bonus.
Buck has done something interesting here: it has maintained its tendency to produce knives with hollow grinds, which is something that makes this knife unique. There are very few other knives marketed as camp knives that have hollow grinds. Even Buck's Selkirk, which is marketed similarly, as a survival knife, has a flat grind, much like most other knives that fall into these two categories.
The hollow grind, which is a near defining feature of most Buck knives, is interesting because it makes it very easy to create and restore a razor sharp edge (the knife comes shaving-sharp, but if it needs some work you can always sharpen and strop the blade yourself), but it also makes an edge that tends to be subject to deformation, chipping or rolling. Even with hard use, that shouldn't be a problem with a knife like this. I can personally attest that I have batoned through and across the grain of very hard woods (like white oak) and though the edge periodically needs to be touched up to restore it to razor status, it has not chipped, rolled, deformed, or otherwise suffered any noticeable damage whatsoever.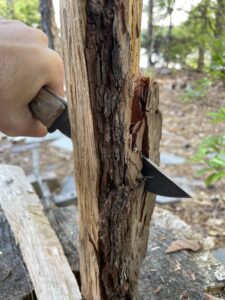 One note to address here is that knives with hollow grinds tend to make poor batoning implements, because the wood tends to "swallow" the wedge and the knife will bind. I have batoned through more than my share of logs with this knife, some soft, like pitch pine and sassafras, others hard, like oak, and this knife has not once bound or jammed in the wood. Perhaps the Cerakote serves as a type of lubrication, and perhaps the hollow grind is not as aggressive here as in other Buck knives. I can say that other knives with hollow grind (like my Buck Vanguard) make poor batoning implements by contrast and almost always bind in the wood. (Note: I recognize that the Vanguard is a hunting knife with a frail tang – I'm just making the point of comparison to another hollow-ground blade. You would think the Compadre was flat ground from the way it effortlessly splits wood.)
The hollow grind is, however, at a distinct advantage when it comes to making very fine cuts. I have not used the Compadre to process any game or fish, but I know from the use of the knife (and similar knives) that the hollow grind is at an advantage when it comes to preparing meat and food. This gives the Compadre the distinction of serving as a capable camp knife, but also as a hunting knife.
I have heard some complaints about the fineness of the knife's point, and admittedly, it does appear very fragile. That said, banging on or near the edge of the tip has not caused it to flinch. I've also jabbed the point of this knife through pieces of wood, into the chopping block, and aggressively twisted in an attempt to split them. The tip has not broken, and shows no signs of stress. It's actually one of the toughest tips I've worked with, all things considered. Also, the 5160 blade steel is relatively soft (Buck says 57-58 Rockwell hardness) meaning that if you're enterprising enough, you can reprofile the tip as you see fit. As for my Compadre, I'll be making no changes.
The spine of this knife is squared, and you would think that the Cerakote interferes with its ability to strike sparks off a ferrocerium rod – but it does not. With only a little patience, you can drive glorious showers of sparks from a ferro rod.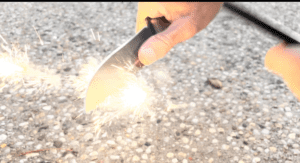 There is also a small guard near the shoulder of the blade, which serves to protect your fingers from sliding forward onto the blade. It is not obtrusive whatsoever and does not interfere with your ability to alter your grip, in the fashion that a traditional crossguard would.
Speaking of which, this knife is very comfortable in the saber grip, and has comfortable jimping along the spine coupled with a bit of a thumb ramp. This enables the user to exert great control over the blade when it is held in this fashion – and again, to reiterate, it is very comfortable.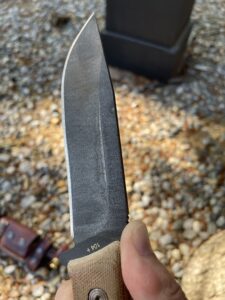 The Buck Compadre comes with a genuine leather sheath that is handsome and comfortable. It features a retention snap which conveniently springs out of the way when disengaged, facilitating both drawing and resheathing the knife. It is well made and rides comfortably on the belt, but it is not particularly versatile. Realistically, it only enables tip-down waist carry.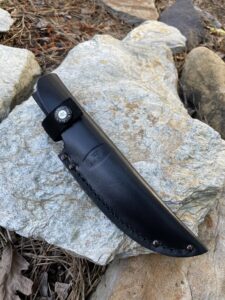 Specifications aside, what are the hits and misses of this Buck camp knife?
Pros of the Buck Compadre
Remarkable ergonomics, fit and finish
The Buck 104 Compadre indexes well, has no hot spots or rough edges, and is extremely comfortable, filling the hand adequately even in many different grips. The fit and finish are near excellent.
Excellent scale texture and tact
The texture of the canvas micarta scales is extremely grippy and very comfortable. It maintains its tactile nature even when wet, despite its plain appearance.
Surprisingly tough, with a great heat treatment
I just can't say enough good things about how tough this 5160 blade and its heat treatment are. I chopped and batoned with this knife in ways that I was nearly sure would cause the edge to warp or the tip to bend or break. Besides some of the Cerakote wearing off, you can't even tell the knife has been used at all.
Hollow grind adds versatility which does not compromise the blade's ability to baton
Even though hollow grinds are not the best for batoning or chopping, they are good to excellent for carving and processing food. This knife can do it all.
Requires no modding for use with a ferrocerium rod
In its native state it will turn a ferrocerium rod into a Fourth of July demonstration. No mod needed. The spine is also sharp enough to shave bit of fatwood or bark for tinder, making it an all-in-one fire prepping system.
Buck's Forever Warranty gives you an option for repair or replacement if by chance you do break or damage the knife. But if you do, tell me how it happened, because I'd be surprised to hear about it.
Misses
Great sheath, but limits carry options
The leather sheath that comes with this knife has a lot of class and carries comfortably, but is very limited. You can easily get a new sheath for this knife, but that adds in a layer of complexity. I got a leather sheath for scout carry and installed some snaps so I could get more use out of this knife – pictured below. The old sheath lies in reserve.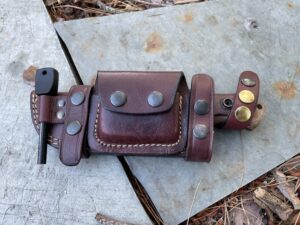 Some have problems with tip breakage
It's a common enough problem that I've heard about it, but I beat the hell out of this knife and the tip not only didn't break, but hasn't bent or twisted in the slightest.
Knife is well balanced, but lacks the blade-weight-forward design necessary for efficient chopping.
This knife is very well balanced in nearly any grip, but as a result, it lacks the weight-forward feel that some would prefer for a chopper. As a result, it's a marginal chopper at best, but it's nice that you can grip it around the pommel for some extra leverage for jobs like this.
The ESEE 4: Another Champion for "Best Camping Knife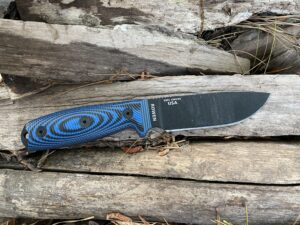 Even though Buck has been around since 1902 and has become such a legend among knife enthusiasts that the term "Buck" has transcended the brand and is used almost universally to refer to fixed blades, ESEE is no stranger to knife users. ESEE knives are some of the most respected knives in the industry, especially amongst survivalists and bushcrafters – which is interesting, because they apparently have not been designed with bushcraft in mind – but that is a topic for another article.
The ESEE 4 is a very attractive knife that is available in a few different configurations and plenty of colors, including "Venom Green" and "Blaze Orange," among many others. It's also available in a number of different steels, such as S35VN, as well as with a partially serrated blade.
My model is the ESEE 4 with black and blue textured G10 scales. It has a straight edge blade and ESEE's classic 1095 steel. My first impression is that this is a very attractive knife with a huge amount of cool factor, and I don't stand alone in that estimation.
Overall, it is 9 inches long and has a 4.5 inch blade with an arrow-straight edge and a gracefully sloped drop point. The knife weighs almost 12 ounces, tipping the scales at 11.48, according to its specifications. This is very evident in the hand, and the knife does feel a bit heavier than the Buck – because, well, it is.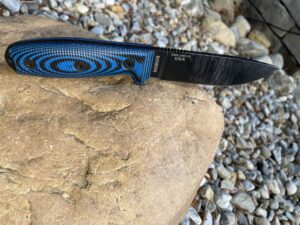 The blade thickness is about .188 inches or 3/16, coming in just shy of a quarter inch. It's a little thicker than the Buck, but not by much. It is, however, one thick, tough bar of steel. They say you shouldn't pry with a knife, but this would make quite a pry bar if you didn't concentrate too much of the force towards the tip.
Like the Buck, this knife is very comfortable in the hand, although the general feel of it is decidedly different. For one thing, the scales that come with it (which are easily replaceable, by the way) are narrower. This enables the knife to index in a hot second, and it fits very comfortably in the hand. There is a nice palm swell that gives a very sure feeling about the grip of the knife.
The G10 scales are textured much more aggressively than the Buck's micarta scales, and though they're indestructible, for what it's worth, they're not quite as grippy. The knife does have a great grip, but one that I believe might not be as sure if the user's hands were wet, greasy, or fatigued. That said, the knife's fit and finish are top-tier, with the tang flush to the scales, and no hot spots or hard, sharp corners whatsoever.
One more thing about the grip – the contours of the knife lack the swell towards the pommel that would enable a rearward grip, making it a little harder to "choke back" on this knife for chopping. However – however! – this knife is weighted slightly forward, with a heavier, longer blade, so you can actually chop pretty comfortably without moving your grip rearward. Overall, it's kind of a wash, but it bears noting.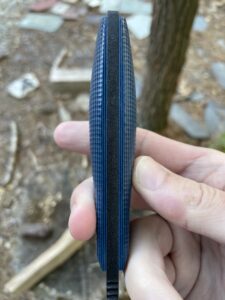 Back then, to the blade. My ESEE comes with a blade made of the staple 1095, everyman's knife steel, the signature component of which (in addition, of course, to iron) is .95% carbon which enables the knife to be hardened and strengthened with a quality heat treatment.
This ESEE, as you would expect, does have an excellent heat treatment, and is very tough while remaining soft enough to easily sharpen up with a stone or in the field. ESEE says it has a Rockwell hardness rating of between 55-57. It's noticeably softer than the Buck, although this is only apparent from the pitch and "bite" of the edge against a stone. It doesn't hold an edge all that long with hard use, but you can resharpen it very easily, and if you're in the field, edge retention means nothing if you can realistically restore it once it wears down. Super steel or not, no edge lasts forever.
As mentioned, the design of the knife makes it a little bit blade heavy, which gives it the edge in chopping over the Buck, but not by a very significant margin. The flat grind is also ideal for batoning along the grain of wood, and it glides through even very hard pieces of wood fairly effortlessly. Also, as the textured powder coat loses its texture and smooths out, it runs through wood even more fluidly.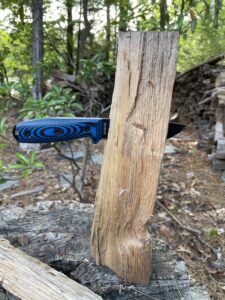 It's very comfortable and efficient as a woodworker, despite the fact that it evidently wasn't intended as one, and the flat grind is also highly effective at crossgrain cutting and carving. It doesn't have a mind of its own, as some hollow and chisel ground tools do, and it goes where you direct it, making it a joy for camp tasks that involve splitting, shaving and carving wood.
A note on the powder coat. This baked-on coating protects the 1095 steel blade, which, as anyone with any experience with 1095 will tell you, will rust if you so much as breathe on it. All things considered, it is necessary to protect the blade, but it does present a pretty glaring annoyance which is central to a vital survival skill – making fire.
The spine of the blade is squared, but because of the powder coat, it is all but impossible to strike sparks from a ferrocerium rod until you have modified the knife accordingly. See the image of my ESEE Izula's spine, below, which I have modified, exposing some of the naked steel under the powder coat, enabling me to use it with a ferro rod.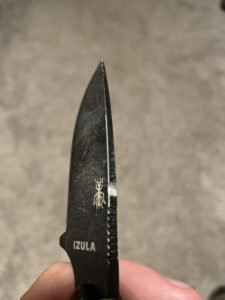 Does this cripple the ESEE 4? Far from it. It's a very simple mod to accomplish (see a future blog for specifics) and when done properly can be highly effective. Besides, a ferro rod literally offers you only one method for making a fire. You can still use an unmodded ESEE 4 to create a bow drill, a fire plough or a hand drill, if you're ever in a real pinch.
The point on this knife is not as fine as the Compadre's, which renders it less likely to chip or break – although ESEE will replace it for you if you do break it. The spine of the knife near the handle lacks the sloped ramp of the Compadre, but features fairly aggressive, comfortable and effective jimping to enable you to exert great control over the blade. On the topic of other grips, the edges of the scales near the shoulder of the blade are sloped down toward it, allowing the user to achieve a very secure pinch grip, despite the heft of this knife.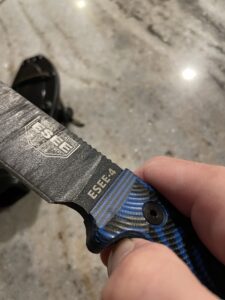 Like the Buck, there is a small guard near the forward section of the handles, which protects a user's hands and provides a sure grip. There is also an exposed section of the tang at the pommel, which is highly utilitarian as a striking or breaking tool. There is also a lanyard hole milled through the exposed section of the tang.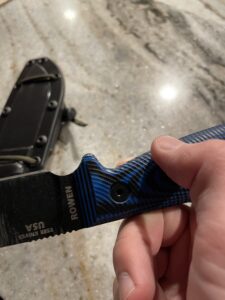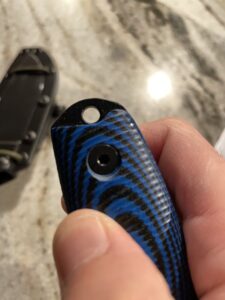 As for the sheath, this is a serious piece of quality equipment. Just what comes with it will vary on the purchase, but mine came with a molded plastic sheath that fits the ESEE like a glove. It also comes with hardware and a clip plate that enables you to mount the sheath in nearly any fashion you want. As it comes, the sheath can be mounted for waist carry, scout carry and more. It also comes with a short length of paracord and a plastic cord lock so you can rig up the sheath for mounting it to a pack or for scout carry, as I have done.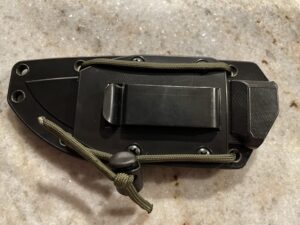 So, with the specifications in the rearview, what features are wins the ESEE 4, making it a contender for the title of best camping knife?
Pros of the ESEE 4
The ESEE 4 is a comfortable knife with an excellent fit and finish that indexes easily and naturally. There are no hot spots to speak of, and no rough or sharp edges.
Flat grind is at a slight advantage for splitting wood
The flat grind offers a slight advantage when it comes to splitting, and glides through wood logs pretty easily. This feature increases as the powder coat becomes smoother over time and with use.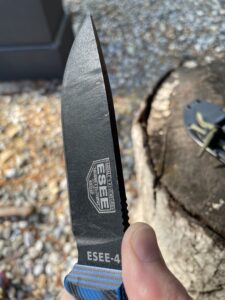 1095 steel is extremely tough, but still soft enough to easily sharpen in the field
Super steels are great, but if you can't resharpen them easily in the field, they lose some of their value. The fact that this steel is relatively soft also means it's less likely to snap from stress. It can happen, but you can beat up an ESEE 4 and the integrity of the knife will probably surprise you.
Exposed pommel lends extra versatility
Need to break out of a vehicle? Need to crack a coconut? Use it as an impromptu stone knapping tool? The exposed pommel is tops for this.
Slightly weight forward blade is better at chopping
Because the ESEE 4 has a slight weight-forward build, this makes it a natural chopper. There are way better tools for chopping, like a machete or an axe, but for a blade under 5 inches, the ESEE 4 holds its own.
Tip is tougher – at least categorically
The ESEE 4, by comparison to the Buck Compadre, has a fairly stout tip that can take some abuse, and the 1095 steel is very tough.
Comes with an extremely durable, versatile sheath
The molded plastic sheath that comes with the ESEE 4 is extremely tough, provides for excellent retention, and could not be more versatile. This is a big plus for the fans of alternate carry methods, like scout carry or lashing the sheath to a pack.
ESEE's "No Questions Asked Warranty"
If your ESEE breaks, ESEE will replace it. Also, the warranty allegedly follows the knife throughout the world and is not restricted to the original owner.
…It's a cool looking knife
The ESEE 4 has a lot of appeal. That's all there is to it.
Misses
No pommel swell makes it a little harder to control when chopping
The knife is slightly blade heavy, so it's still pretty effective as a chopper, for a 4 inch knife, but there's no swell near the pommel, making a rearward grip a little more difficult.
G10 texture is comfortable – but slicker than the Buck Compadre's micarta
You can definitely feel how tough this knife is, and the scales are nearly indestructible, but they're a little bit slicker than the micarta scales of the Buck Compadre.
Powder coat makes it impossible to strike sparks without modifying the blade
Without modifying the knife, you can't strike sparks from a ferrocerium rod, but this is easy to remedy, and the powder coat offers no small measure of protection to the 1095 from which it is made, which is a rust magnet.
Which One Should You Get?
There you have a pretty comprehensive rundown of two excellent (albeit small) camp knives, either one of which might rightly be called the best camping knife – depending on what your needs are. So which one should you get?
Of course, you should get both. You can't just have one camp knife, and I have and use both of them, but if you must choose, here are some final thoughts on choosing between the Buck and ESEE if you must select a superlative "best camping knife."
Get the Buck if you are a hunter and or want to use the knife for fine tasks like carving and food prep. ESEE actually adds a word of warning into their literature about using their powder coated knives for food prep, so the Buck's probably preferable here.
If you need flexibility in carry options and you're intending to use your camp knife for building shelter, then the ESEE might be the way to go. Either knife can do this, but the ESEE might be more comfortable and is easier to carry, without getting or making another sheath.
As for the matter of price, both are similar in that respect. I tend to notice that the ESEE 4 (especially the model I got) hovers between $105 and $130 dollars, depending on where you get it. The Buck 104 Compadre usually comes in at about $100, making the ESEE slightly more expensive.
For what it's worth, I got my Buck Compadre online at Midway USA (MidwayUSA.com) for about $80 after waiting nearly a year for the right sale. I've never seen it cheaper anywhere else.
I cracked and bought my ESEE on Amazon (do you really need a link for that?) because I was too slow to get it from Smoky Mountain Knife Works (SMKW.com) when it was about $89. Both MidwayUSA.com and SMKW.com routinely have excellent prices and a great selection of gear like this, and no, I am not affiliated with them (or with Buck or ESEE) in any way.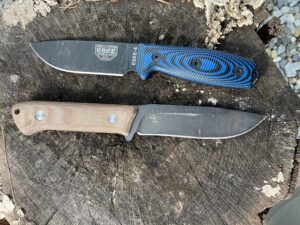 Pick up one or both and let me know what you think in the comments. Personally, I think they're both excellent knives that can find a lifetime of practical use in the hands of an outdoorsman. Current owners, let me know what you think as well – which one is the best camping knife?
~The Eclectic Outfitter