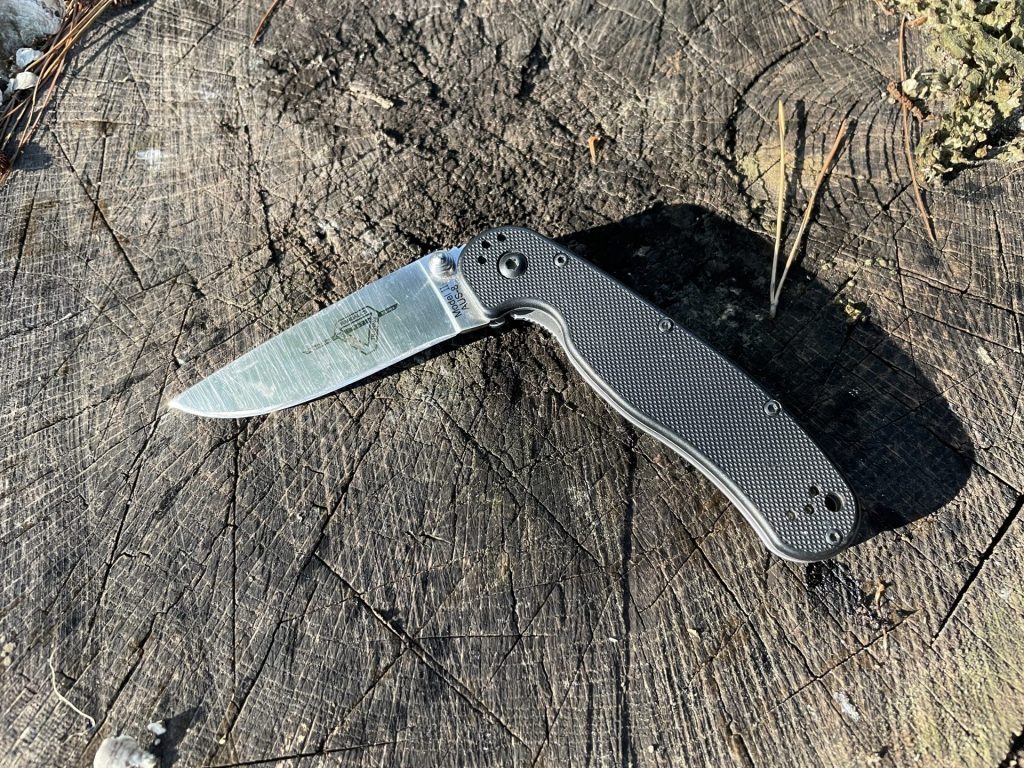 Pictured is an OKC RAT II that was my EDC go-to for about a year. I carried this thing (and other RAT IIs which unfortunately fell out of service due to hard work) every day for more than a year, so I have had plenty of time to become intimate with its curves and weigh in on what I like, and what I don't.
I had intended to write about this knife but I actually rushed the review when someone came onto my site and actually searched for an "OKC RAT II Review," so at that point I figured demand and intrigue were both sufficient. 
Here's what I have to say.
What We're Working with Here…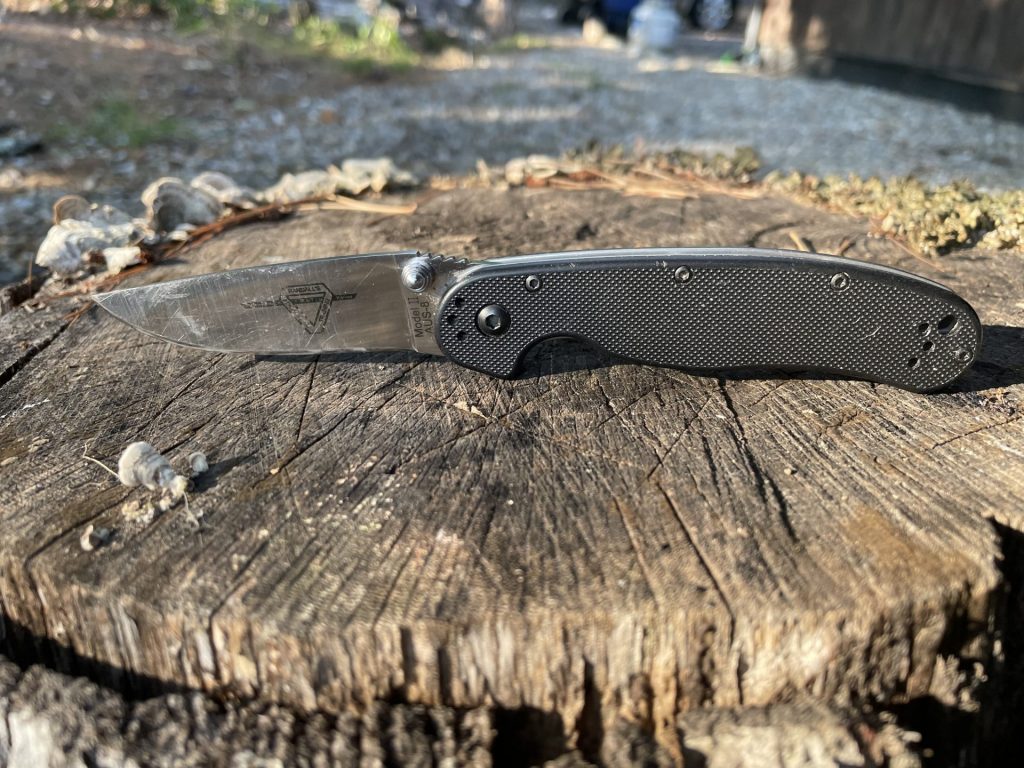 First let's cover some specs since I'm sure some of you are here for that. 
Made by Ontario Knife Company (and elite among elites, by any measure, this is the company that both designed and produced the 499 Survival Knife which for a long time was standard issue to enlistees of the United States Air Force) the RAT II is the little cousin to the OKC RAT I.
The RAT I dwarfs the RAT II by every metric. On paper this discrepancy is done no justice. You have to see them side by side to really appreciate and understand the scope of the difference in size. 
Yeah, just look at how much bigger the RAT I is than the RAT II. Seriously, it carries like a fixed blade. I actually got the RAT I first and then switched to a RAT II shortly after because the RAT I was just too big. I carried it for a little while and then just decided it was pointless as a folder. If I needed a knife of that heft, I'd just carry a fixed blade. 
So, while I like the RAT I, I just keep it around the desk or in my pack as a general utility blade. 
The RAT II, by contrast, is a totally different species. The knife you're looking at in this article is a standard RAT II, made with AUS-8 steel blade and black nylon scales. They look and feel a bit like Micarta, but they're a bit soft – which in some ways is both more comfortable and more tactile. 
The blade is a classic straight back profile with a full flat grind. It is .095" wide and an even 3" long.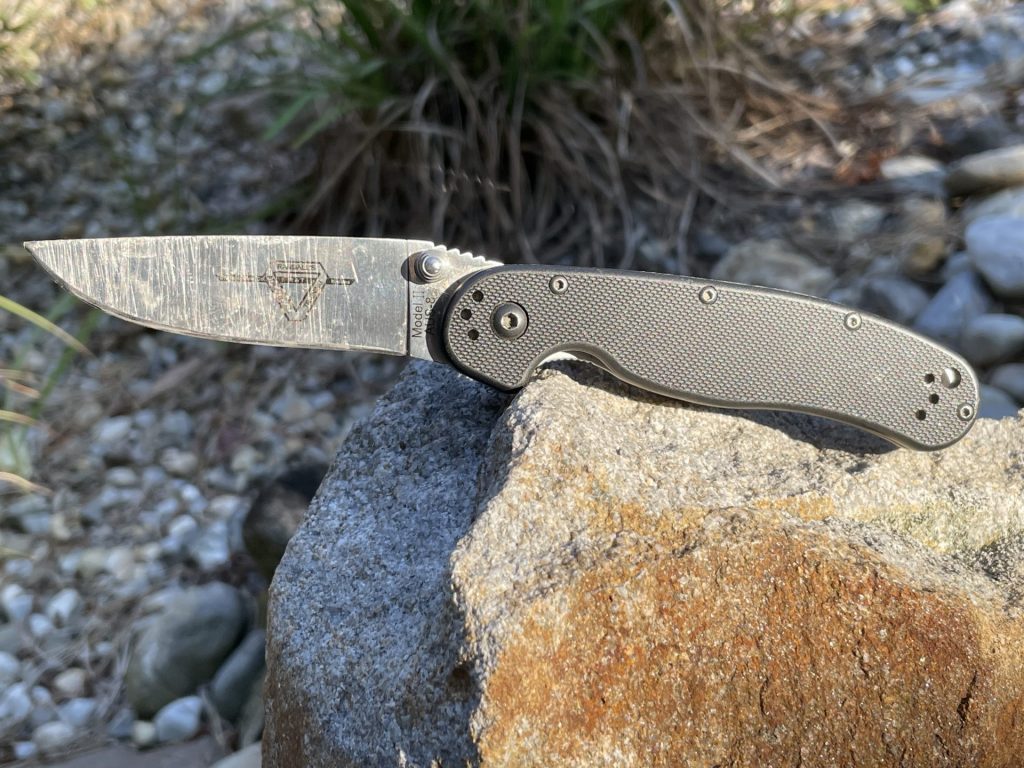 AUS-8 is both fairly common and a pretty good budget steel. This alloy won't break the bank anywhere and I know from constant use that it can hold up to pretty hard use. To be fair, the strength of the steel and its ability to hold an edge never blew me away, but considering the price of these knives, it's honestly pretty impressive. 
The edge came pretty sharp but I put my own edge on it till it was popping hairs. It will hold an edge that sharp for a few days but then needs to be touched up again. Still, on a knife of this price, that's fairly surprising. (If you shop around, you can get my RAT II, with black nylon scales and an AUS-8 blade for like $25 or so.)
About AUS-8 – this is a Japanese alloy the two star constituents of which are carbon and chromium, at .75% and 1.5%, respectively. The carbon content is similar to 1075 steel; so this knife doesn't have excellent edge retention, but like I said it's pretty good. Due to the high chromium content,  it's basically rust proof. I've had this knife out in the woods and on the water hunting and fishing and it hasn't developed a spot of rust. I've even had it around saltwater environments and it holds up pretty well, so if you're looking for an alloy that can handle corrosive environments you'll do well with AUS-8.
AUS-8 also contains small amounts of molybdenum, vanadium, manganese and nickel. I assume nickel improves corrosion-resistance. As for the other three, they improve toughness substantially. I haven't had any problems with blade breakage or chipping and I've twisted, pried, and struck my RAT IIs. All things considered, they've actually probably gotten the most abuse out of all my folding knives. 
Closed, the RAT II is 4.1" and open it is an even 7" long. It tips the scales at just 2.4 ounces, so while it has some meat on its bones, it doesn't sag down in your pocket. It's sturdy without being too heavy. Compare this to the RAT I, which weighs 5 ounces and feels like carrying around a pocketful of target shells. The thing is heavy; the RAT II is not. 
The RAT II, like the original, has dual thumbstuds. The RAT II also has two sets of washers; bronze and nylon. They're more fluid than snappy, and some of the most enjoyable knives I have to flick open, and this knife has a silky-smooth action. The RAT II has a liner lock (more substantial information below – I have a lot to say about it!).
The knife offers deep carry, both tip up and down, via a 4-way reversible pocket clip, so OKC offers some serious versatility with this knife. I carried mine free-floating in my pocket, but I know some of you guys will appreciate the extra versatility of the pocket clip. 
OKC produces this knife in some pretty serious variations. The same knife is available with a black finish on the blade – but be warned, it is paint, not PVD or powder coat, and I have read from other OKC RAT II owners that it chips off in a most unappealing fashion. 
It is also available in a combo edge, as well as configurations that feature D2 steel. As far as handle scales, you can get it in bone/ivory white, tan, olive green, and perhaps some other colors of which I am unaware. There's some good variety out there. 
All of that just about covers what I can offer in terms of specs – so let's get on to what matters: my experience carrying the knife everyday. 
What I Love About the RAT II 
First, and I need to get this out of the way because I don't want any of y'all to read this blog and be uncertain about my opinions because I am going to say some disparaging things below, I really do like this knife and I have a lot of respect for OKC. 
All things considered, I think the design and ergonomics of this knife are among the best in every folder I have ever carried. In fact, in terms of design and usability, it just might be optimal as far as knife design is concerned. 
I know there are tons of knife designers out there making headlines for their contributions to the catalogs of Artisan Cutlery and CJRB, but the truth is that this just about scratches the surface of "as good as it gets."
Now, let's be clear: I am talking just about the knife's ergonomics.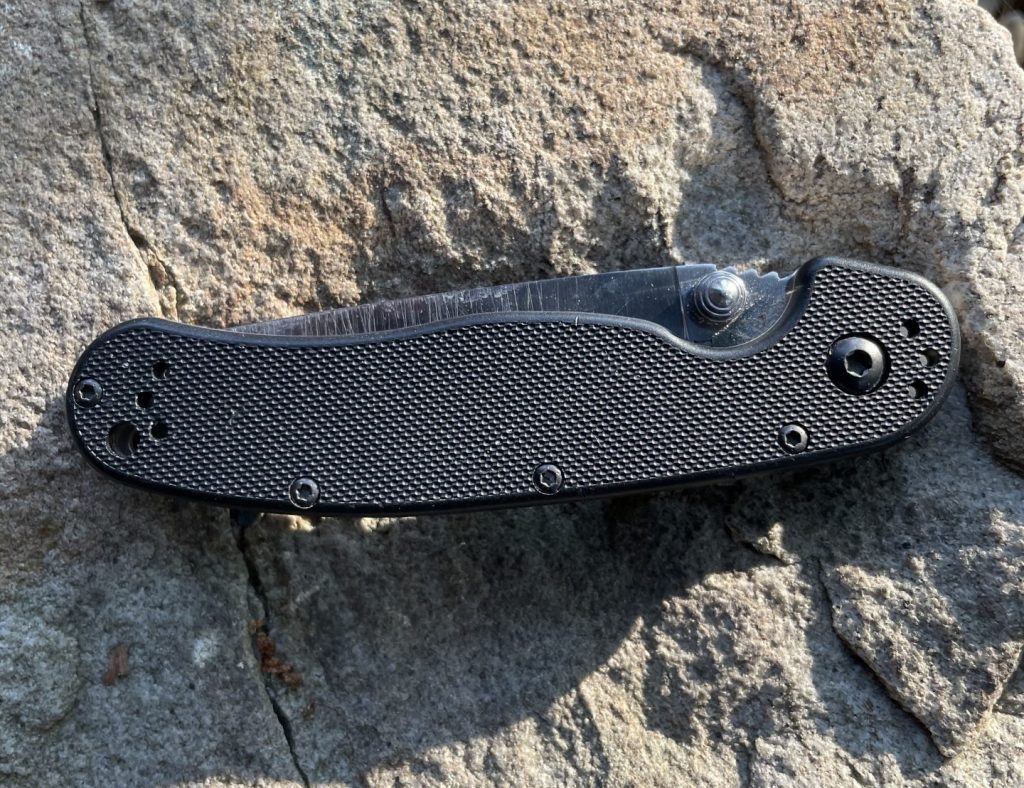 As you can see from the picture below, it has something of a canoe-like pattern. I don't think you'd ever hear this knife called a "canoe knife" because that term is more or less reserved for slip-joint pocket knives with two pen blades, but honestly, that is what it looks like. Just look at the thing. It's a canoe knife. 
It may look unwieldy, but that design, which is rounded off at the corners, curled up at the edges, and which features a pronounced choil near the shoulder of the blade, is simply amazing. There is not a grip in which I have found the RAT II to be either unbalanced or uncomfortable to use and hold. 
Just look at the picture below of me holding the RAT II in the standard grip. 
I recognize that not everyone's hands are the same size as mine, but it fits my grip comfortably, and there are no sharp edges on the scales, protruding elements to the design, or hot spots. That deep choil is the perfect indentation to give an excellent, sure, no-slip grip purchase under my index knuckle, as you can see. I have never slipped or dropped this knife.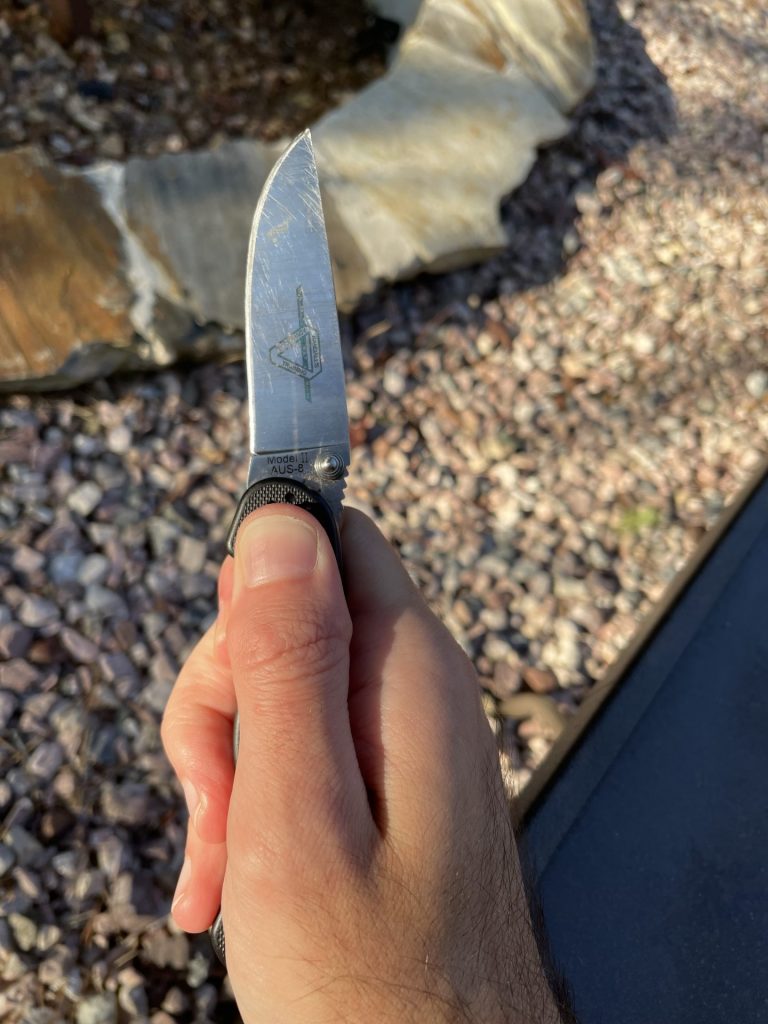 The texturing of the scales, while not aggressive, really offers a good grip. I'm not sure about oil, but both sweat and water slack to break one's ability to maintain a good grip on this knife.
Somehow, the knife is even more comfortable in the forward, edge-in grip, as shown below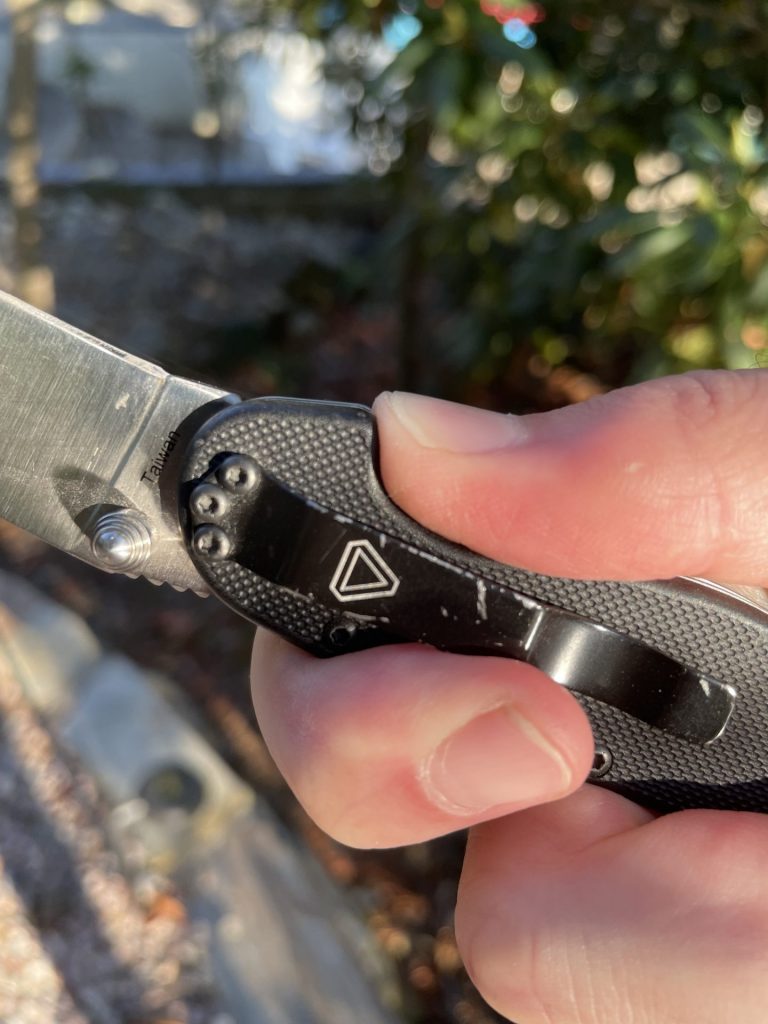 I don't know how or why OKC designed the knife this way, but it seriously works, and it works as well as or better than any other knife, fixed or folding, that I've ever held. My thumb fits perfectly in the choil and slides right up to underneath the blade, with very little to no chance of slipping in any direction. It also makes the knife very practical for making draw cuts.
This makes it not only very comfortable to grip but affords an amazing degree of dexterity that you truly should experience to appreciate. Or you could just take my word for it. 
In the saber grip the knife is comfortable and secure. The choil provides a secure grip under my index finger as I indicated, and there is jimping along the spine, with a slight thumb ramp, that makes it almost impossible to slip. The jimping is a little rough and could be a but less aggressive, but for that slight bit of discomfort you get a whole lot of grip security.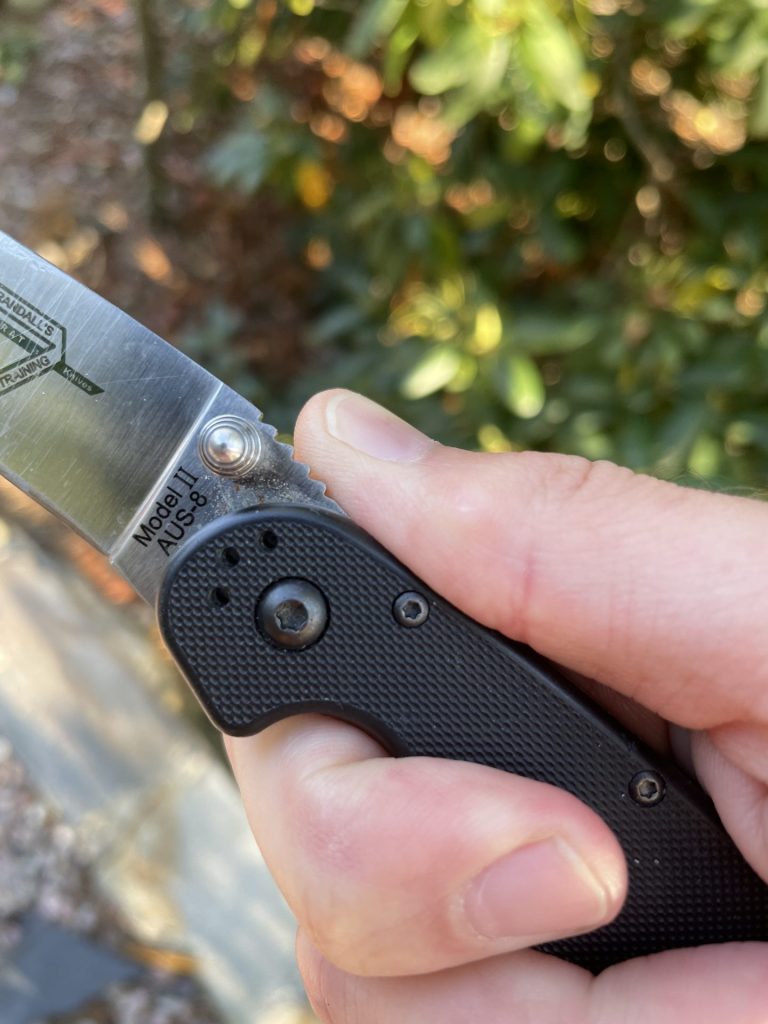 Even in the reverse hammer grip, the knife somehow perfectly fills my grip and fits the contours of my hand. The choil is recessed just adequately to deliver a foothold for my pinky, creating a stable grip that again, won't slip.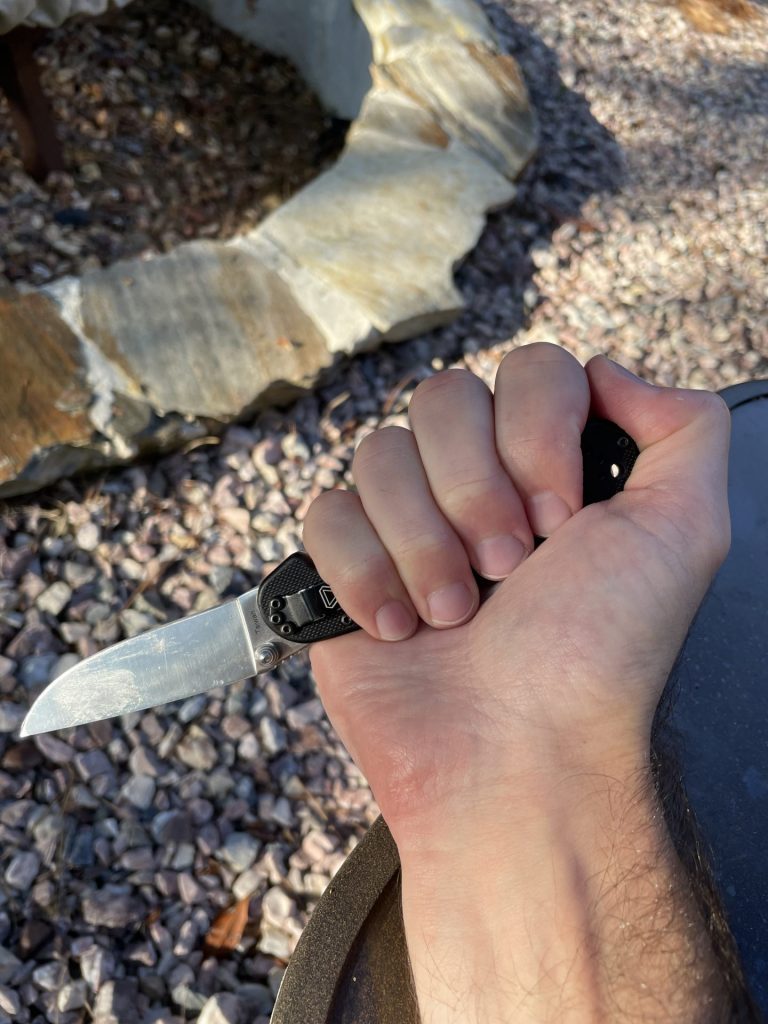 As I said, not everyone has the same size hands as me. But guess what; if the RAT II is just a bit too small for you, just get a RAT II. Except in size, these knives are 100% identical in every way. Every single proportion is consistent among them, meaning the RAT I might just be the perfect fit for you if the RAT II is too small, so I can hardly fault OKC for that. 
To close out ergonomics, I really can't laud OKC enough. This thing has unbelievable ergonomics in just about every way I can think of. Seriously, I'm sitting here trying to think of a legitimate flaw in the design that hurts the user experience, and with the sole, lonely exception of the jimping being just a bit too sharp, the knife boasts an optimal design that is perfect, comfortable, balanced and secure in every grip.
I have to give the OKC RAT II some points for the 4-way reversible pocket clip, too. It really doesn't affect me much because I almost never use it but having the option is nice. 
I like the flat grind, but the knife doesn't have a monopoly on that. A flat grind is easy to maintain and makes for a great slicer, so OKC did well with that. A hollow grind would probably be out of place here on a general utility knife, which is what I'm assuming OKC designed the RAT II to be.
Deployment is smooth, and I have to say I consider the knife fairly fidgety. It's also easy to open and close with one hand – but that's really something to be expected of a liner lock. The action is smooth but it could be better (see below for clarification).
I also appreciate the fit and finish. The knife isn't going to win any pageants but blade centering is pretty good: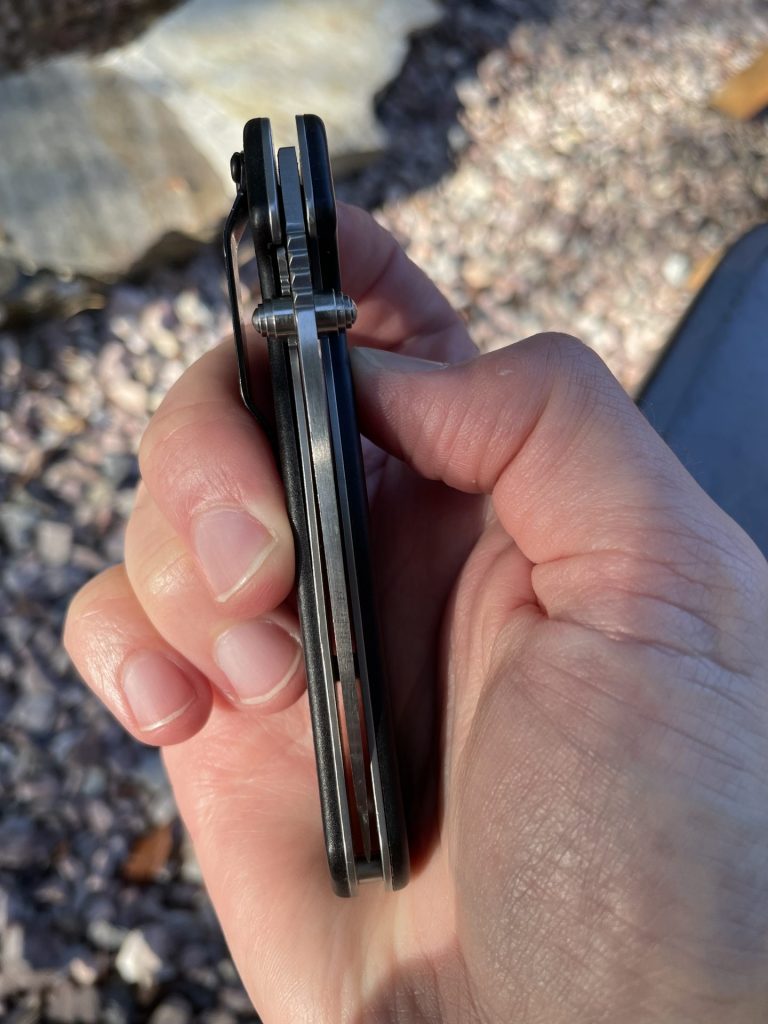 And to be honest, the scales are well machined and there were no noticeable blemishes on the blade or hardware when I got this one (I have three other RAT IIs, two of which bit the dust doing some hard work which will be detailed below).
I also like the size of the knife. Pictured below, you can see it next to my CJRB Maileah which I reviewed a few months ago.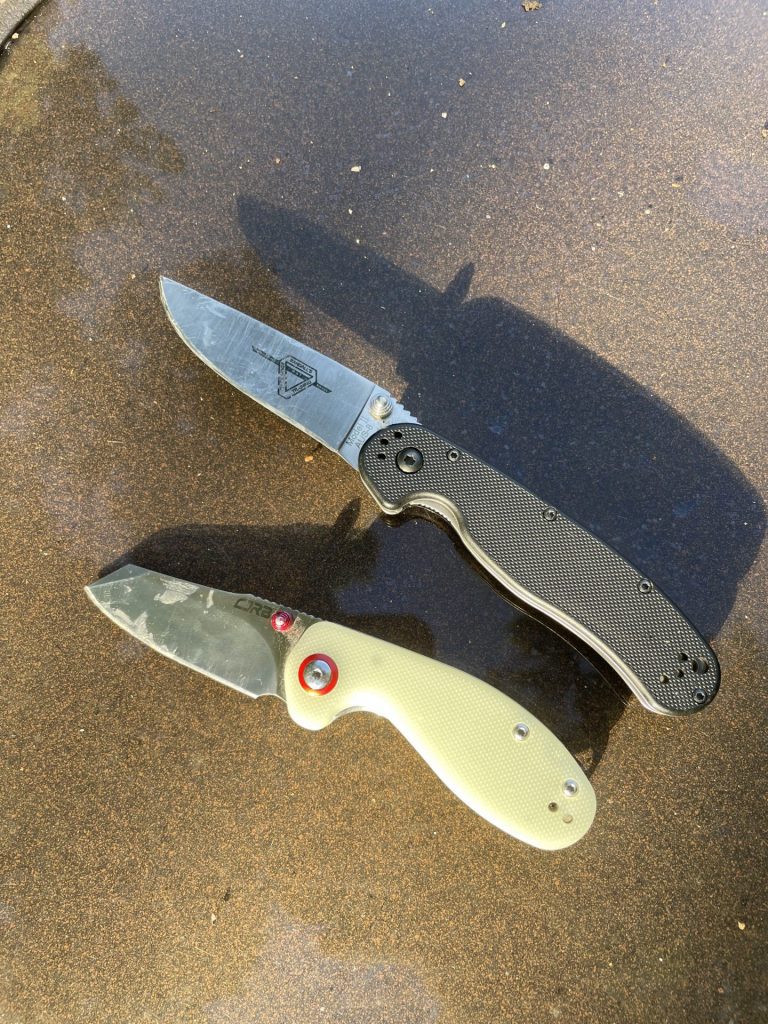 It is so much bigger it makes the Maileah look like a toy (which, if you read my Maileah review, you know it most certainly is not). 
The thing is, the OKC RAT II isn't really that big of a knife – it's just the perfect size. And I, as I know many others, think 3" is like literally the ideal size for an EDC blade, fixed or folding. Many of my fixed blades that I take with my in the field have blades between 3" and 4". 
So here's what you can take away from the good about the OKC RAT II:
The flat grind is a plus for slicing.

It's fairly affordable.

AUS-8 steel is a good all-around steel with excellent corrosion resistance).

The knife is light and versatile.

Most importantly, the ergonomics are superb – pretty much the best, as far as I care. I can make no recommendations to improve them. 
So let's talk about some things that I really didn't love about the RAT II. 
Buckle up.
What I Don't Love About the RAT II 
You may recall the point in this article in which I lauded the ergonomics of the RAT II's design. I spent the better half of the last section doing so. 
Alright, I hope I don't catch too much flak for this: the OKC RAT II is downright ugly. 
This is one of the ugliest knives in my collection. It's just so unappealing to look at. 
Granted, the scores on the blade, chips on the pocket clip, and gouges in the scales are endearing, but I put them there. That has nothing to do with OKC and are the marks of a tool that someone owns and uses. Any knife can show wear or a patina.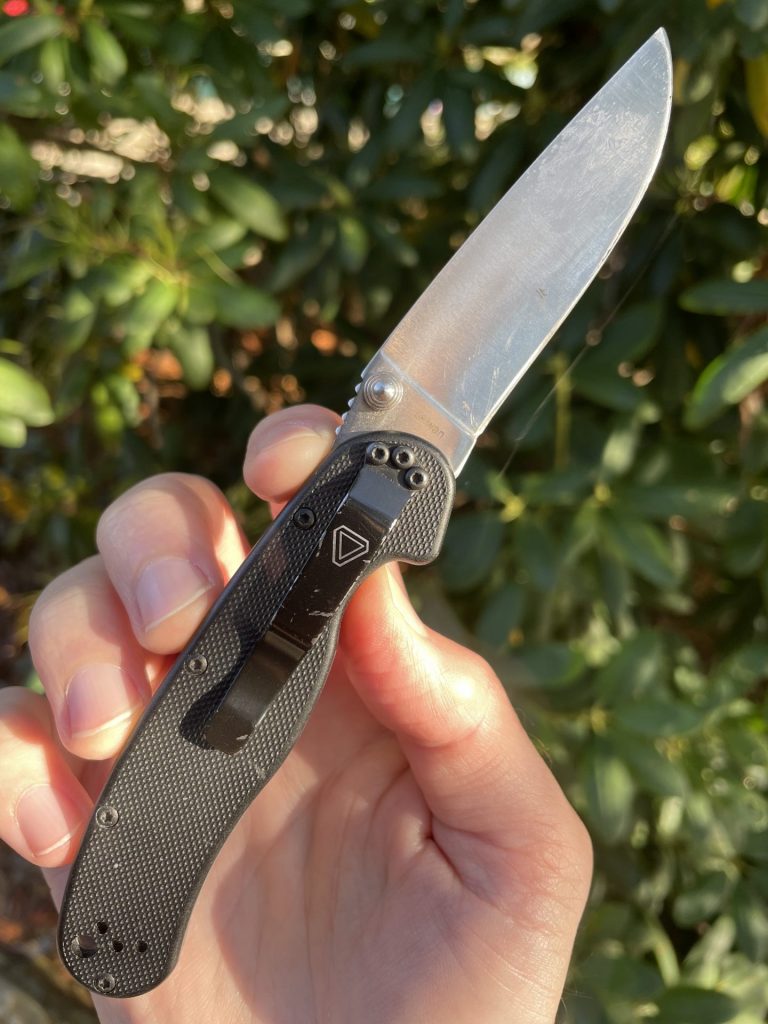 Just look at the thing. It's unwieldy, asymmetrical, and humpbacked. I can't quite articulate just what it is that irks me. The design is so ideal and its so comfortable to carry, but once you open the knife most of the visual appeal flees. Closed its sort of handsome, with its canoe-esque silhouette, but open it's ungainly and crooked.
To be fair is it superficial of me to criticize such an inconsequential factor, since I don't really care too much about knife aesthetics, but I had to point it out anyway.
That said, I have another more substantial critique. Here is my real criticism of the knife: the lock.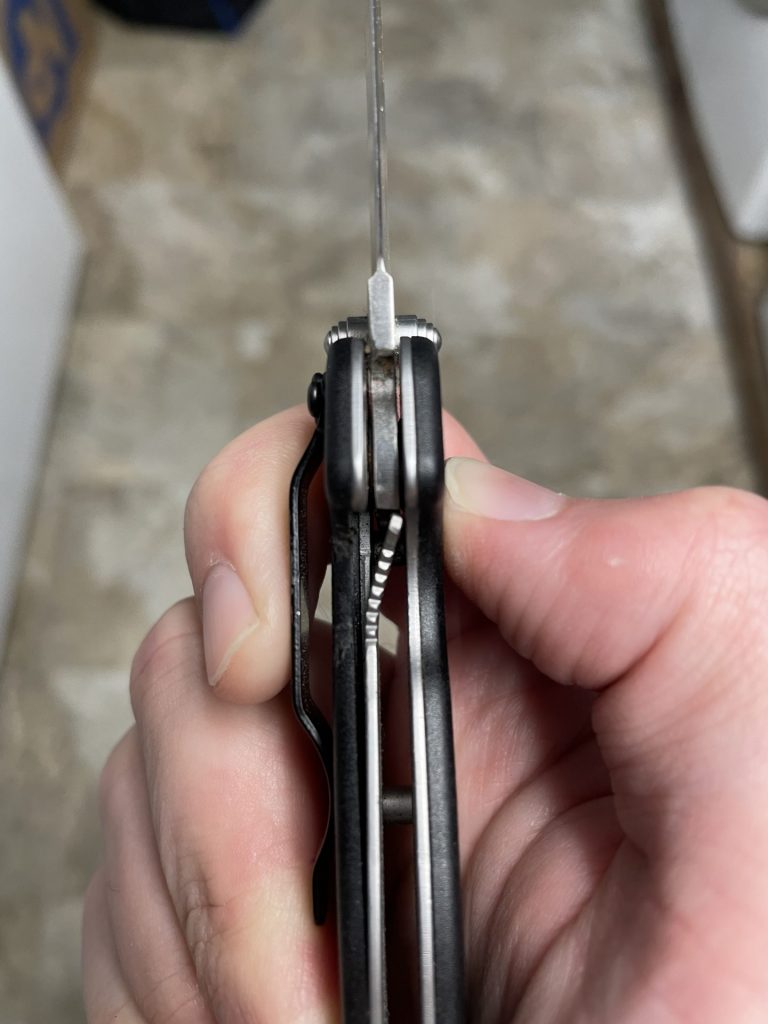 That is one of not one, but two OKC RAT IIs whose locks failed while I was splitting up some white oak for kindling. 
Pause. I can hear you now. 
You're a fool for using a folding knife to baton or split. 
Yes, you're right. That is not a fault of the tool. I abused it. But am I wrong for wanting more from my tools? 
This is Ontario Knife Company, which for decades outfitted the United States Armed Forces. What if they carried RAT II folders and their locks failed in the line of official duty?
I fully understand it is unreasonable of me to expect a folding knife lock, especially a liner lock, to put up with this sort of abuse. But – but – I have other folders that are tougher and have not failed, and that just doesn't seem right to me. 
The liner is too thin. If OKC wanted to use a liner lock, that's fine. But they need to use a stronger steel alloy with a better temper – or, even better – just a thicker liner. I'd much rather have a knife that's just a bit harder to close than one with a lock that gives up the ghost at a breath of hard work. 
With all of that said – and I know I vented a lot – if you're just going to use the knife for slicing, dicing, food prep, and general camp chores or utility, you will literally never encounter a problem. Just don't put the RAT II to jobs that should be reserved for fixed blades. It will not likely survive. 
So, to sum it up, things I really didn't like about the RAT II are: 
Aesthetics. Unfortunately, I find the knife very unattractive. 

I don't consider the liner lock to be strong enough. It is good but not great. I also know it wouldn't have made sense for OKC to design this knife with a framelock, but there are ways they could have made the liner thicker or stronger. 
Why You Should Get a RAT II Anyway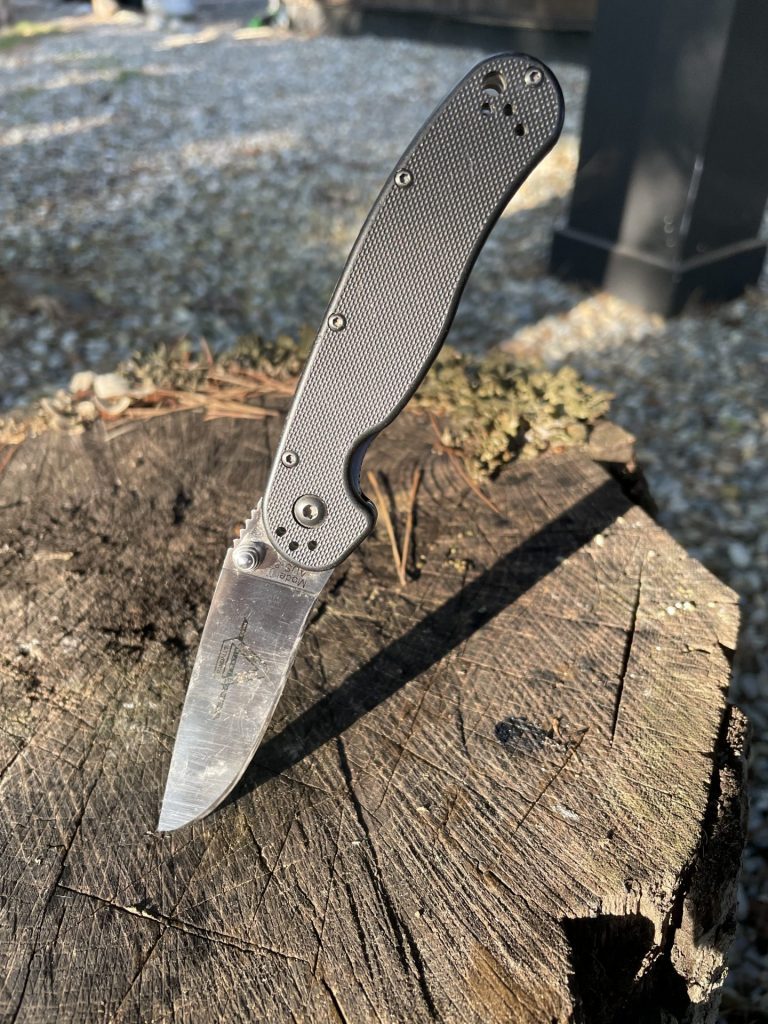 I hope what I said about the knife's aesthetics didn't turn you off too much. I really do like the knife. I don't want to deliver too much of a course in apologetics. I carried it for over a year, and function should always trump form, especially in this arena. 
So you can basically entirely cross off my criticism of the knife's aesthetic. It is true that I don't really love the look of the knife, it's basically irrelevant. It's a reliable knife, and that's what really matters here. 
Truth be told, I'm sure some of you probably like that somewhat lopsided looking tactical edge the RAT II has going on. There's nothing wrong with that. Some of you probably expressly like the look. It's a matter of taste. 
As for the liner lock, as I stated, it would have been possible for OKC to have designed it to be stronger or thicker, but to be fair, I deserve the bulk of the criticism for the lock failures. I was categorically abusing the knife. 
Now let's get to price. I paid somewhere in the ballpark of low $20's for these, every time I bought one (and as you can deduce, I have bought several).
It's really impressive considering it's cheaper than some of the other knives and tools I've reviewed on this website so far. So, considering that, and the amazing ergonomics, I'd say it's actually a really good knife. 
I don't get as excited about it anymore as I do about the CJRB I carry every day, but the OKC RAT II is better than a good EDC knife. It is great. 
After all, I carried mine for well over a year every day before I switched over to the Maileah and I still carry it from time to time. In fact, one of the old ones (which I broke) is in one of my toolboxes as a backup. I ground the liner short beneath the shoulder of the blade so now it's basically a friction folder. It does just fine. 
Anyway, if you're thinking about getting a RAT II, shop around. You don't need to pay the near-$40 prices that many sellers are asking. Be patient and you can probably get one for like $25, and if you appreciate the balance, ergonomics, and utility of this knife a third as much as I did, you'll be glad you waited. 
Be safe and stay sharp.
~The Eclectic Outfitter